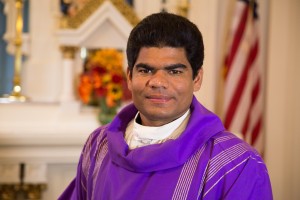 Our Current Priest:
Fr. Saji Kumbungal Thomas, CMI was born on December 8, 1975 in Murickassery, India. He is one of eight children of the late Thomas Matthew. Fr. Saji was ordained on December 31, 2005 and is a member of the Carmelites of Mary Immaculate (CMI), the first indigenous congregation founded in India in 1829. Following the example of the Founder of CMI, St. Kuriakose Elias Chavara, who was canonized on November 23, 2014 by Pope Francis, Fr. Saji simultaneously serves in the fields of pastoral ministry and education.
Fr. Saji obtained his Masters in Sociology from Madurai Kamaraj University (MKU), Tamil Nadu, India; his Bachelors of Education in English, History and his Bachelors of Arts in English, Sociology, and Psychology from Christ University, Bangalore, Karnataka, India; and his Bachelors of Theology and his Bachelors of Philosophy from Dharmaram Vidya Kshetram (DVK) Pontifical Athenaeum in Bangalore, India.
Fr. Saji has served as Associate Pastor, Vice Principal and Principal in Kerala and Bangalore beginning in 2006 until his arrival in the Baker Diocese in May of 2015.
Fr. Saji speaks four languages and enjoys reading, hiking, playing basketball, listening to music, playing pool, and being with people.
For more information on the Carmelites of Mary Immaculate in the United States and India: http://www.cmiusa.org/ and http://cmi.in/
Priests of Our Lady of the Valley:
Rev. Francis Hartlieb, 1880-1885
Rev. Msgr. Peter DeRoo, 1885
Rev. J. F. Quinn, 1886
Rev. B. G. Ahne, 1887
Rev. J. F. Brouillard, 1888-1895
Rev. Anthony Moore, 1895-1901
Rev. Przybylski, 1901-1903
Rev. H. D. Gartland, 1903-1904
Rev. M. J. Whyte, 1904-1909
Rev. Mattheus A. Aalders, 1909-1911
Rev. John Kerr, 1911
Rev. Patrick J. Driscoll, 1911-1920
Rev. August Loeser, 1920
Rev. Otto Nooy, 1923-1934
Rev. Thomas Brady, 1934-1936
Rev. Michael Mahon, 1936
Rev. Dennis Sheedy, 1939
Rev. Thomas Moore, 1939-1943
Rev. John Phelan, 1943-1945
Rev. John Baumgartner, 1945
Rev. Patrick Stack, 1945-1947
Rev. Joseph Hayes, 1947-1950 & 1967
Rev. Patrick Lunham, 1950-1951
Rev. Michael Brennan, 1951-1952
Rev. John McCarthy, 1952-1954
Rev. John Stupfel, 1954
Rev. John O'Connor, 1954 & 1957
Rev. George Murphy, 1957 & 1972
Rev. John Curran, 1956 & 1961
Rev. Cletus Kirkpatrick, 1956
Rev. Msgr. Matthew Crotty, 1957
Rev. David Hazen, 1957
Rev. Leo Weckerle, 1958 & 1959
Rev. Austin Cribbin, 1958 & 1959
Rev. Charles Driesbach, 1959, 1961 & 1967
Rev. Benjamin Kiernan, 1962
Rev. Elden Curtiss, 1959 & 1965
Rev. Eugene Van Beveren, 1964
Rev. Patrick Gaire, 1964
Rev. Bernard Keating, 1964
Rev. Aloysious Miller, 1946 & 1971
Rev. Charles Lavin, 1965
Rev. Dennis Holmes, 1973
Rev. James Noel, 1973-1975
Rev. Richard Fischer, 1976-1979, 2015-2016
Rev. John Murphy, 1976
Rev. Martin Quigley, 1977
Rev. Henry (Harry) Beegen, 1978
Rev. Brian McGovern, 1979
Rev. Timothy Mockaitis, 1980
Rev. Joseph Kelbel, 1983-1985
Rev. Dominic Hahn, 1985
Rev. Carl Gillen, 1987
Rev. Jocelyn St. Arnaud, 1987
Rev. Francisco Vallejos, 1988
Rev. Louis Henry (Hank) Albrecht, 1988-2008
Rev. Pirmin Ngolle, 2001
Rev. Peter John Auer, 2005
Rev. Remigius Nwabichie, 2005
Rev. Christopher Agoha, 2007-2014
Rev. Augustine Okwuzu, 2008-2009
Rev. Francis Obijekwu, 2008-2009
Rev. Daniel Ochiabuto, 2010-2011
Rev. Gabriel Ezeh, 2010-2012
Rev. Anil Kumar Marri, 2013-2015
Rev. Stephen Abraham Manthuruthil, SDB, 2014-2015
Rev. Saji K. Thomas, CMI, 2015-present